Have you ever thought about getting an Apple Gift Card for App Store for your friends or family? You're probably wondering just how valuable these cards are and how you can use them to get the most out of your purchase. Learn everything you need to know about App Store –  What is it? What does it have? And how to make the best use of it? And what to know before buying them on a sale!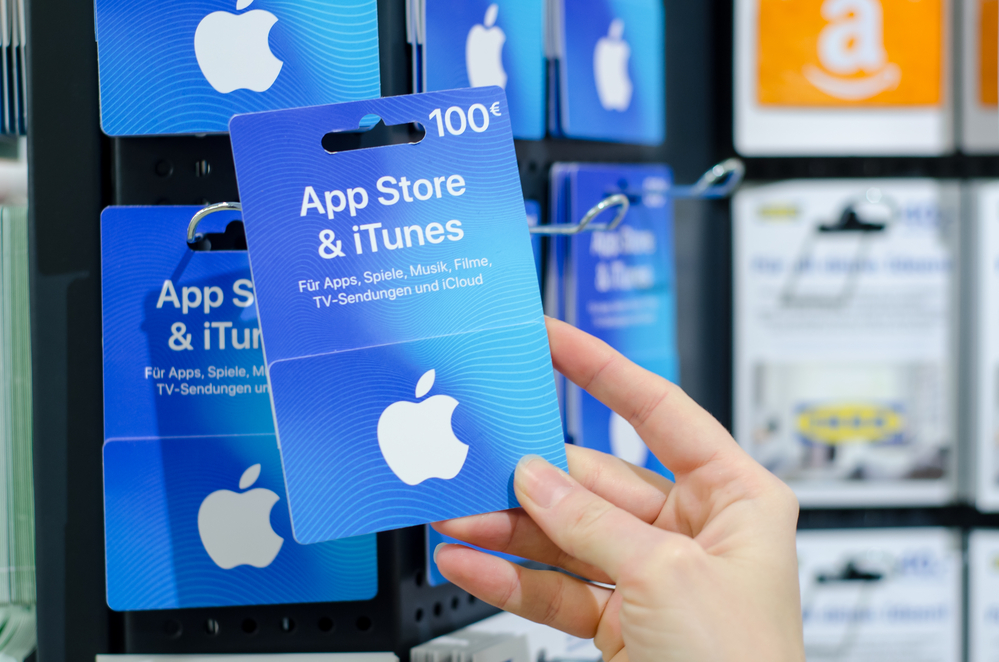 Where Can You Use an Apple Gift Card?
Apple Gift Cards are solely for the purchase of goods and services from the Apple Store, the Apple Store app, apple.com, the App Store, iTunes, Apple Music, Apple TV, Apple Books, and other Apple properties.
This prepaid Apple gift card can also be used to purchase apps, games, music, movies, and other digital content from the App Store, which is Apple's official marketplace for iOS apps. App Store gift cards can be used on any Apple device that has the App Store, including the iPhone, iPad, and Mac. 
It's a pretty cool gift option if you've got friends or family who love their Apple devices and enjoy downloading new apps and stuff. You can buy them in different amounts, so the recipient can use them to buy whatever they want from the App Store, without having to use a credit card.
What is App Store?
The App Store is basically a one-stop shop for all your app needs if you've got an Apple device. It's run by Apple and has a ton of different apps for your iPhone, iPad, or Mac, like games, social media, productivity tools, and more. It's super convenient because everything's in one place and you can feel safe knowing everything's secure.
According to Statista, as of January 2022, there were over 2 million apps available on the App Store. And, according to Apple, in 2020 the App Store ecosystem supported over 630,000 jobs in the US alone, and consumers spent over $64 billion on apps and in-app purchases. Impressive, right? The App Store is definitely a big player in the app world.
How to Buy and Use Apple Gift Cards?
You can purchase an App Store gift card from a variety of retailers, including registered gift card dealers, grocery stores, convenience stores, drug stores, and online stores. App Store gift cards come in a range of denominations, from $10 to $100. Depending on where you buy the card, the price and denominations may change. To find out your specific options and prices, check with a retailer. 
How to Redeem Your Apple Gift Card on App Store?
Redeeming an Apple gift card on App Store is pretty simple. Here's how to do it:
Open the App Store app on your Apple device.

Tap on your profile icon in the upper-right corner of the screen.

Scroll down and tap on "Redeem Gift Card or Code."

Enter the code on the back of your App Store gift card and tap on "Redeem."

The balance of the card will be added to your Apple ID, and you can use it to purchase apps, games, music, movies, and other digital content from the App Store.

And, that's it! Just remember, you can only redeem the card on an Apple device. So, if you've got an iPhone, iPad, or Mac, you're all set to go.
Know The Refund Policy
If you're wondering about refunds for App Store gift cards, it depends on where you got them. If you got it from a store, it's usually a no-go for returns. 
But in some cases, where a problem exists with the card you purchased, you might be able to get a refund by reaching out to Apple Support. Just keep in mind, if the gift card's already been redeemed, it's usually not up for a refund.
Everyone has a gift for something, even if it is the gift of being a good friend.
Enjoy a Gift of $25 to ...

4 Things to Be Aware of When Buying Apple Gift Cards on Sale
App Store gift cards are pretty popular, especially as gifts! They're a great option for anyone who loves their Apple devices and enjoys downloading apps, games, music, movies, and other digital content from the App Store.
People love these gift cards because they're easy to buy and use, and they give the recipient the freedom to choose what they want from the App Store. They're also available in different denominations, so you can choose the amount that works best for you and your budget.
However, when buying these gift cards on a sale, there are a few things you must be aware of.
Verify the Balance

 If the deal is too good to be true, it probably isn't! If you are considering buying a gift card from someone who claims to have a card with a high balance for a lower price, the card may be stolen or obtained fraudulently. It is important to be cautious when purchasing gift cards from third parties. You don't want to purchase a gift card just to discover that there is no money left on it. Before buying the card, make sure to check the balance to make sure it has the funds you're anticipating.

Verify the Source

Determine the authenticity of the card and whether it has the balance that the seller promises. It is generally best to purchase gift cards directly from the retailer or through registered and reputable sources.

Check the Expiration Date

Some Apple gift cards come with expiration dates or specific terms on how you can spend them, so be sure to double-check that the cards you're buying are still valid. 

Check for Apple's Terms and Conditions

Buying an Apple gift card on sale may come with certain terms and conditions. Read the fine print before you make your purchase to ensure you're getting the deal you're paying for.
Your

perfect gift

for Anyone! Quick and Easy to Buy
Unique and Shows That You Care
Available for a Huge Number of Retailers
Fun to Unwrap