Hey there, movie lovers! Wondering what to watch with your kids on this week's family movie night?
If you're looking for the perfect family movie night, look no further than Netflix! And if you're lucky enough to have a Netflix gift card, you're in for an even better experience.
Here are 11 amazing movies to stream on Netflix that are perfect for a family movie night: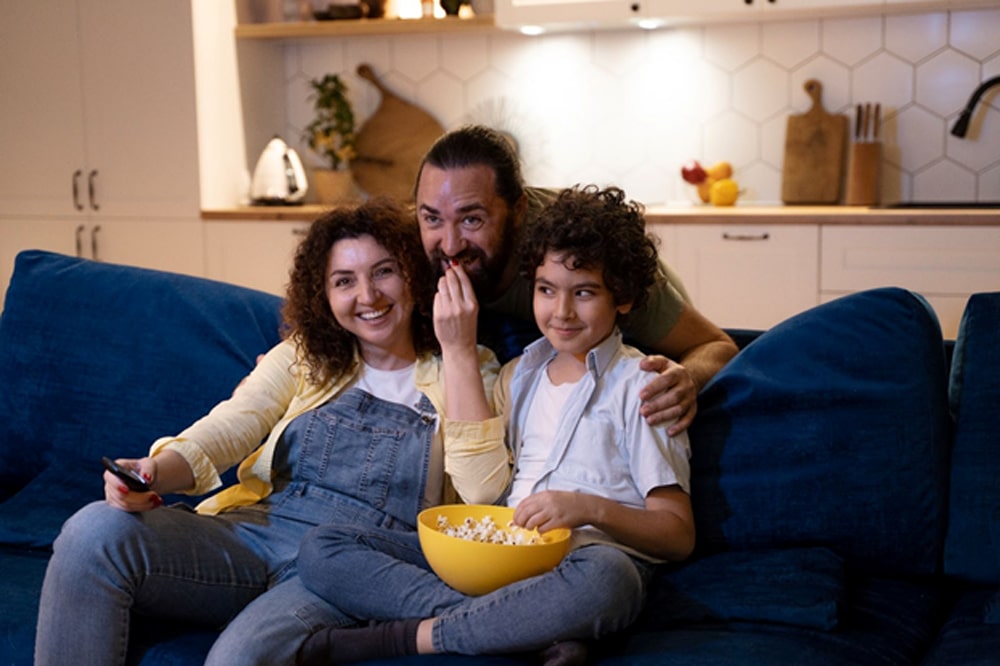 1. Moana
This animated adventure follows the journey of the fearless and determined Moana, who sets off on a quest to save her home island and uncover her true calling. Moana confronts challenges and navigates through dangerous waters with the help of the demigod Maui. Eventually, she becomes a master way-finder and finds her own path.
2. The Incredibles
The Parrs, a superhuman family, embark on extraordinary adventures in the action-packed family movie. The Incredible family must work together to stop the evil Syndrome and save the planet, with Mr. Incredible serving as the leader, Elastigirl as the brains, and their children Violet, Dash, and Jack-Jack each endowed with special abilities.
3. Coco
The endearing film Coco transports us to the Land of the Dead where Miguel, a little boy who aspires to be a musician, meets his departed relatives and discovers the story of his ancestors. Miguel learns the truth about his family's history and the significance of family and tradition with the help of his mischievous buddy Hector.
4. Zootopia
In the animated comedy Zootopia, Judy Hopps, the city's first bunny police officer, works with clever con artist Nick Wilde to solve the mystery of the missing mammals. Judy and Nick discover a conspiracy that threatens the delicate balance of their city thanks to their odd alliance, compelling them to band together to stop it.
5. The Boss Baby
Tim Templeton, a young kid who is not overjoyed about the advent of his new baby brother, The Boss Baby, is the focus of this hilarious and comical film. Tim soon learns, though, that The Boss Baby is not just any infant, but rather a covert agent working to foil a devious conspiracy by Puppy Co. The Boss Baby needs Tim's assistance to save the world of babies and restore balance to the love in Tim's family.
6. Wallace & Gromit: The Curse of the Were-Rabbit
This hilarious stop-motion animation follows the adventures of the eccentric inventor Wallace and his loyal dog Gromit, as they try to save their town's vegetable competition from a mysterious creature that's been eating all the crops. With Wallace's silly inventions and Gromit's intelligence, the duo sets out on a wild and wacky adventure to capture the monster and save the day.
7. How to Train Your Dragon
This joyful and action-packed animated movie tells the tale of Hiccup, a young Viking who doesn't fit in with his tribe's dragon-slaying customs. Hiccup decides to persuade his tribe to see differently and put an end to the conflict between humans and dragons after becoming friends with one and learning about its compassionate nature. Hiccup becomes a true hero and discovers the value of bravery, camaraderie, and understanding with the aid of his dragon Toothless.
8. Ratatouille
This appetizing and heartwarming film introduces us to Remy the rat, a culinary genius with aspirations of becoming a chef. Remy collaborates with the hapless chef Linguini to produce culinary masterpieces and offers a fresh viewpoint to the world of gourmet dining, despite the difficulties of being a rat in a human society. Ratatouille is a scrumptious and endearing family film that blends humor and heart.
9. Lilo & Stitch
This movie narrates the tale of Lilo, a young Hawaiian girl who adopts Stitch, a dog who is actually an alien genetic experiment gone awry. In an effort to rehabilitate Stitch and stop him from causing any more problems, Lilo embarks on a series of crazy escapades with her older sister Nani and their pals. Lilo & Stitch is an enjoyable and endearing film for the whole family with its themes of family, love, and acceptance.
10. The Land Before Time
In this timeless animated film, a baby dinosaur named Littlefoot starts out on a quest to locate the Great Valley, a place of plenty where food is plentiful and danger is in short supply. Littlefoot overcomes numerous obstacles with the aid of his new pals and gains important lessons in bravery, friendship, and tenacity. The Land Before Time is a classic family film that will be loved by future generations thanks to its beautiful animation and stirring narrative.
11. Toy Story
In this yet another classic animation, a toy cowboy named Woody and his buddies go on a series of exciting adventures when their owner, Andy, leaves for summer camp. With the introduction of Buzz Lightyear, Woody's jealousy causes a sequence of amusing mishaps as the toys attempt to return home before Andy leaves. Both children and adults will enjoy Toy Story because of its lovable characters, touching plot, and imaginative animation.
So now that you know what to queue for your movie night, let's see how to purchase a Netflix subscription or redeem a gift card for Netflix if you have one.
Give yourself a break and entertain through Netflix!

Enjoy a Gift of $25 to ...
Netflix Gift Cards
Netflix gift cards come with a lot of benefits! They are convenient to buy and redeem and are available online. They do not have expiration dates. Although this may vary across different geographical regions.
So, if you've received a gift card for Netflix or thinking of buying one for yourself, here are the steps to use it to pay for your Netflix subscription:
Log in to your Netflix account.
Click on the "Account" tab in the upper right corner. From the drop-down box, choose "Redeem Gift Card."
Enter the redemption code found on the back of the gift card.
If you don't have a Netflix subscription, you will be prompted to sign up for one. Choose the plan and enter your payment information. The balance on your gift card will be deducted from your Netflix account as soon as your payment information has been verified.
Your

perfect gift

for Anyone! Quick and Easy to Buy
Unique and Shows That You Care
Available for a Huge Number of Retailers
Fun to Unwrap